The winds of trade union change blow across Africa
published

25 August 2022
updated

29 August 2022
A webinar organised by Education International's regional office for Africa (EIRAF) was the opportunity for an enriching and useful exchange of experiences of trade union renewal between member organisations in Cameroon, Mali, Senegal and Côte d'Ivoire.
EI affiliates in Mali and Cameroon have been involved since 2021 in a pilot project on union renewal with the German Friedrich-Ebert Foundation (FES), while affiliates in Senegal and Côte d'Ivoire benefited from a programme supported by the FES and Education International entitled "Young Teachers for Quality Education and Effective Unions" from 2015 to 2020.
In his introductory remarks to the 23 June webinar, EI Africa Regional Director Dennis Sinyolo said: "We meet at a time when trade unions in Africa and around the world are facing many challenges: the COVID-19 pandemic, conflict, insecurity, climate change and human and trade union rights abuses."
He regretted that there have been too many situations where EI member organisations have had to go on strike simply because the government has not responded to their demands, as in Senegal, Cameroon and Mali. "This is unfortunate, because ideally governments should be paying our members a decent salary, so that they can concentrate on teaching, not on wondering where their next meal is coming from."
As far as our trade union movement is concerned, many member organisations are struggling to recruit and retain young members, including women, he stressed.
No one should be excluded if the unions reform successfully and meet the challenges of the present and the future
Young people are often dissatisfied, according to Sinyolo "because of poor working conditions, low wages, and probably because they don't share the union values of older members. They need something new, something that energises them to get actively involved in the union's activities. That is why union renewal is so important."
He added that "as educators, you know that for us, improving teaching and learning in the classroom is not a one-time task. It is a lifelong learning process. Similarly, as unions, we need to critically examine our structures, functioning and practices. We need to identify the threats facing our trade union movement. We must identify opportunities and explore them for the benefit of our members. We must continue to build capacity among our members. This is all about trade union renewal."
Concerning women, he stressed, "We need to recruit them, we need to mobilise them, we need to bring them into the unions and give them the opportunity to participate effectively in union activities, but also the opportunity to really lead."
He did insist, however, on the need to respect the value and experience of older union members, because "when the experience of our older members and the energy of the younger ones come together, then miracles happen. Older and younger members, no one should be excluded if our unions are to renew, grow and be ready to meet present and future challenges."
"Today's workshop is very important as it will allow us to share our experiences. We hope that the renewal programme with FES will be a catalyst for collaboration beyond today's meeting. We are stronger together," he concluded.
Resolution on Trade Union Renewal
Anais Dayamba, EIRAF Coordinator, recalled that the trade union renewal programme derives its mandate from the Resolution on Education Union Renewal adopted by the 2019 EI World Congress. This resolution mandates the EI Executive Board to "identify and facilitate opportunities to share the knowledge, expertise and reflections of Education International affiliates in relation to union building and union renewal".
Why union renewal? she also asked, offering the following justifications:
To give unions the capacity to resist negative trends, such as attacks on collective bargaining rights, weakening of unions, direct attacks on activists;
Find new ways to respond to changing circumstances;
Revitalise the link with members and attract them into union activities;
Move from mass membership organisations to mass participatory organisations; and
Achieve Democratic Renewal, both in society and in the unions.
Dayamba maintained that there is a need to improve the participation of under-represented groups - young people, women, support staff - and to develop innovative ways of organising around workplace issues while maintaining the notion of industrial action. There is also a need to rethink union structures to make them more inclusive and participatory, and to make sure the union is part of the lives of members at the workplace.
Resolution on young and early stage teachers, researchers and support personnel
Referring to the project "Young Teachers for Quality Education and Effective Trade Unions", Dayamba explained that the project, which focuses on Senegal and Côte d'Ivoire, aims to increase the visibility of young and early stage teachers in trade unions in order to have an impact on the gender dimension and to make trade unions sustainable. It was set up following the adoption in 2015 by the 7th EI World Congress of the Resolution on Young and Early Stage Teachers, Researchers and Support Personnel, and following the recommendations of EI OrgNet and the EI's Women's Conference held in 2014. "This project is based on the premise that we must have well-prepared young people ready to take over," she said.
Trade union renewal in Cameroon
During the panel discussion "The project on trade union renewal in Cameroon and Mali: activities carried out - results achieved - difficulties encountered" moderated by EIRAF Coordinator Pedi Anawi, the Secretary General of the Fédération camerounaise des syndicats de l'éducation (FECASE) Thobie Mbassi, cited the different types of training related to trade union renewal organised for trade unionists in his country, namely trade union leadership training, training for trade union communication officers and a Women's Network training seminar.
"We had to identify our strengths and weaknesses in order to provide training to overcome a number of the shortcomings we had identified" he explained.
Activities were carried out in 2021 in four regions of Cameroon, with training focused on three areas:
Political and ideological: what are the education policies, at national level, at international level?
Legal: what are the legal standards that govern the world of work, trade union activity, both at the international and local levels?
Trade union governance: How is trade union power built and used? What about union mobilising, conflict management, funding?
According to Roger Kaffo, deputy general secretary of the Fédération des Syndicats de l'Enseignement et de la Recherche (FESER) in Cameroon, an important activity that does not fall directly within the framework of the trade union renewal project is establishing a union presence. "Because we have problems with establishing our presence, before we even organise training courses," he admitted. "Given the budget, we said that each organisation had to do its own work to establish its presence in the regions where we were going to organise training. I must congratulate all the unions and organisations, because these activities were carried out with great success, and it was this success that made it possible for our trainings to take place without problems. As a result, we now have a very good territorial coverage in terms of an established trade union presence. Each of the six grassroots unions is now established or has strengthened its presence at regional or district level in the four regions concerned: South, Coastal, Centre and East.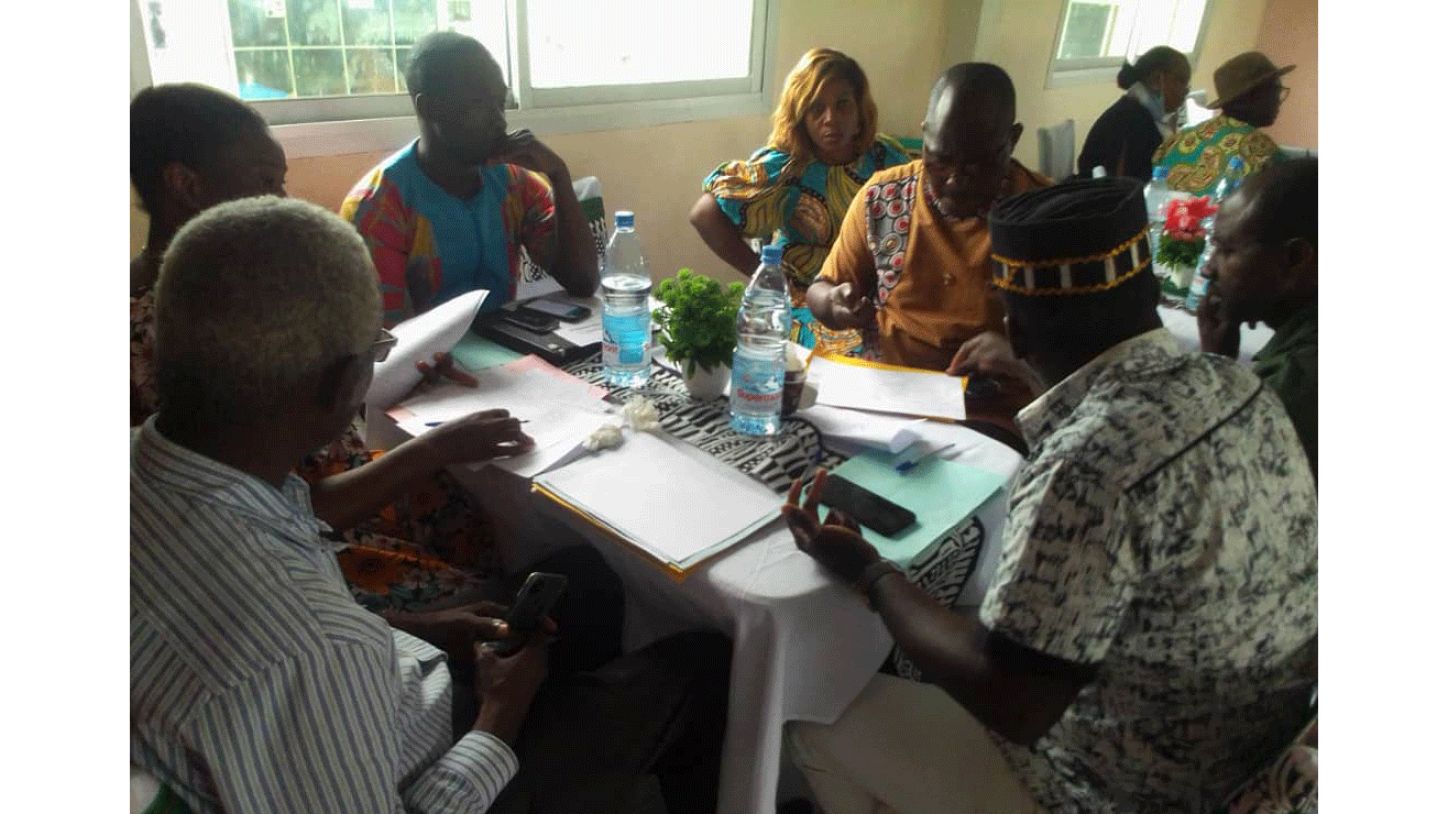 Luc Nhyomog, national president of the Syndicat des travailleurs des établissements scolaires privés du Cameroun (SYNTESPRIC), also acknowledged that "these activities within the framework of trade union renewal have enabled us to forge links, establish contacts and try to see how, in the future, we can pool our strengths. This solidarity, which we have always wanted, must become a lived experience for our members. This should be done through these exchanges of expertise."
He explained that "in the regions, it is good that, when a union is having difficulties with a specific issue, it can call on its colleagues in other unions to talk about it. At key moments, such as World Teachers' Day, why not carry out union activities together, collectively, at the regional level?".
Trade union renewal in Mali
Speaking about the experience of trade union renewal in Mali, Soumeila Hamida Maïga, in charge of training at the Syndicat national de l'Éducation et de la Culture (SNEC), began by pointing out that, for his union, "trade union renewal means reforming our union to adapt it to the current context".
He said that before launching the eight training courses on trade union renewal, a questionnaire was sent out for the trade union structures in each region to answer. The questions were about running the organisations, union governance, democracy, communication, structuring and participation and the role of young people and women in the union.
"That is why, before launching the training sessions for 20 people, respecting parity between men and women, we visited all the regions of Mali between June 2020 and May 2021. The results are convincing. There is now a very strong level of union mobilising and they have had debates on the difficulties that the union is going through."
Moreover, Maiga acknowledged, "we found during these training sessions that the majority of young people and women do not know the union very well. These training sessions have therefore enabled them to get to know the union, to position themselves as activists and to work towards the future", he said.
"The results obtained show that our union is now functioning well in all regions of Mali" he stressed. "We have breathed new life into our unions and we are back on a good footing."
Diara Traoré, responsible for gender issues at the SNEC, also noted that "after our training sessions, we noticed a great change in terms of the motivation and mobilisation of our women activists. This has enabled them to get to know their union better, to know how to make demands, etc. Now women know that when they are well represented, their concerns are taken into account. They have understood that they have to be more mobilised, more motivated. There are now women's offices in the different regions of Mali."
Trade union renewal in Côte d'Ivoire and Senegal
Abdourahmane Guèye, national general secretary of the Union démocratique des enseignantes et des enseignants (UDEN) said that union renewal "is a challenge for us. Since our fifth congress, we have been in a process of development. We believe that by building up the strength of our union, we will contribute to strengthening the trade union movement as a whole."
He also said that "a new challenge requires a new approach for this new generation who need someone by their side to support them at all levels."
Speaking on behalf of the Syndicat national des formateurs de l'enseignement technique et de la formation professionnelle (SYNAFETP-CI) of Côte d'Ivoire, its General Secretary, Raphaël Zouzou, pointed out that the term union renewal is "a very appropriate term in relation to the current challenges that we must meet in the trade union movement which is increasingly losing momentum."
"We initiated a major national action to renew all our grassroots structures, using our own means, and we travelled all over Côte d'Ivoire, from January to April 2022," he said. His union has set up 76 sub-sections and met with at least 23 regional delegations.
He went on to explain: "We have put a lot of emphasis on gender, because there are at least ten women leading our local structures. In my national bureau of 25 members, there are at least 4-5 women. In addition, there are young people who actively participate in union activities."
Young women trade unionists take the lead
Participants then listened to Geneviève Ngo Djon, a member of FECASE from Cameroon who participated in workshops as part of the project "Enhancing the voice of young people in trade unions in the new-normal of COVID-19", aimed at promoting trade union renewal and training young trade unionists.
While she was pleased that the workshops had "provided young people with the knowledge to impact their environment", she regretted that "often when young teachers leave the training centre, they are left to fend for themselves, especially in remote areas of the country. It is important that more experienced colleagues guide us."
Esther Minyem, FECASE Cameroon's gender training officer, proposed that Education International should organise meetings between women in the region, encouraging massive participation by women, as women are not as involved as men because of their culture.
She also condemned the fact that "the union has always been presented as something that causes problems in the lives of others. So, for women, I would like to see us organise workshops where we bring in successful women who have distinguished themselves on the trade union platform. We could invite a woman, a personality, to come and talk about her trade union experience and how it has been beneficial for her personal development and for the development of society."
Daouda Diakité, Claims Secretary at SNEC Mali, also reported that, following the workshop on union renewal "Building an effective and inclusive union" held on 14-15 June 2021, "there has been a big change, with a considerable influx of members".
Florian Lascroux, coordinator of solidarity and development cooperation projects at EI's head office, stressed that the trade union renewal projects in which the African trade unions are involved "interest us a lot, and should be studied in depth to see how to start similar projects in other countries. In Mali and Cameroon, we see that there are different approaches. There are projects over several years, it's an ongoing effort. These are measures go to the heart of the union's operation. I see this seminar as one more step and an invitation to continue these enriching exchanges."