Teacher-led Learning Circles for Formative Assessment – First network event held for facilitators in Ghana
published

9 April 2023
updated

15 June 2023
The Teacher-led Learning Circles for Formative Assessment project began in Ghana in early March after months of careful preparation by the country's national researcher Dr. Christopher Yaw Kwaah with the support of Education International and HertsCam.
The process began with the careful selection of learning circle facilitators based on their teaching experience and qualifications. These learning circle facilitators were chosen to lead circles to improve learning outcomes for students across in three geographical regions in Ghana: the Central Region, the Ashanti Region, and the Upper East Region.
Following the selection procedure, the learning circle facilitators came together for the first time at a network event held at the Ghana National Association (GNAT) headquarters in Accra on the 8th of March 2023. The General Secretary of GNAT, the union's two Deputy General Secretaries, and two members of technical staff joined the facilitators and the national researcher at the network event.
The network event began with an address from the General Secretary, Thomas Tanko Musah, and one of the union's Deputy General Secretaries who both touched on the significance of the Teacher-led Learning Circles for Formative Assessment project. This address was then followed by an overview of the project from the national researcher, Dr Christopher Yaw Kwaah, who outlined the status of the Teacher-led Learning Circles for Formative Assessment project in its six other countries.
Facilitators then had the opportunity to ask questions about their roles. This was followed by a workshop session run by Val Hill and David Frost of HertsCam who provided the space for facilitators to clarify any questions that remained unanswered.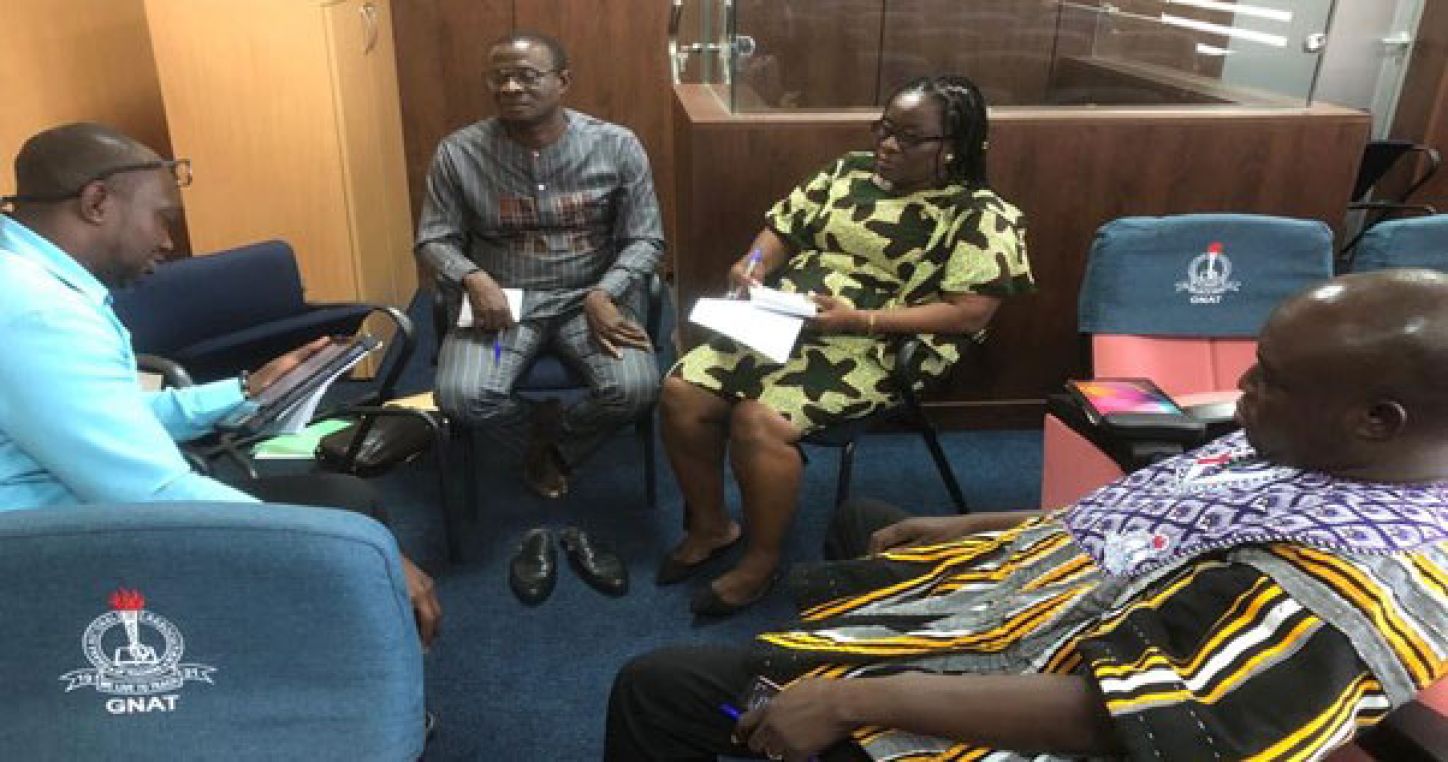 During the last session of the network event, facilitators used the knowledge gained earlier in the day to engage in group work to discuss the different formative assessment strategies that could be used to positively change students' learning outcomes in the facilitator's own classrooms as well as the classrooms that are guided by the teachers who would participate their learning circles.
Want to find out more? Continue to keep up to date with the T3LFA project in Ghana and across our six other project countries by visiting our dedicated project page.
The project is led by Education International with funding from the Jacobs Foundation.