The Education International Asia-Pacific (EIAP) Regional Committee called for a greater investment in public education and educators, more for gender equity within unions, urgent action on climate change and expressed solidarity with colleagues across the region and the world who are facing violations of their human and trade union rights.
The meeting, held in-person in Bangkok, Thailand, from October 10th-11th, began with members of the EIAP Regional Committee meeting observing a minute of silence, honouring the memories of Mr. Ram Pal Singh, Vice-Chairperson of the Committee, and Mr. P Ramanathan, former Committee member, who recently passed away, the members also extended condolences to their families.
Takimoto Tsukasa, Chairperson of the EIAP Regional Committee, paid tribute to Singh and Ramanathan, describing them as "two great leaders of the region who dedicated their lives to education, teachers and unions," adding that "they inspired countless teachers, including us, and their work will continue to inspire all of us."
EI President Susan Hopgood reflected on their passing and expressed how "we all have fond memories of them. They fought for the rights of teachers, unions, and children's education. Ram Pal's life was his work. I remember him as a towering man who inspired thousands of members. Rama was a very dedicated person and always wanted us to focus on human and trade union rights. We will miss both badly."
"A couple of months ago I was with Ram Pal in India talking before the Prime Minister Modi on the negative impact of the government pension scheme," EI General Secretary David Edwards recalled, stressing that he was ''towering and persuasive." As for Ramanathan, he said he was "a friend who encouraged on professional development and rights. He wanted us to take research. I value his mentorship and guidance. We in EI will continue to march along their footsteps."
The Committee's Vice-Chairperson and Australian Education Union's Federal President Correna Haythorpe also noted Ram Pal Singh's contribution to the increased number of women in leadership position in his union, the All India Primary Teachers Federation.
Gearing up for the EI Campaign "Go Public! Fund Education"
In the opening remarks to the committee, the Chairperson Takimoto Tsukasa highlighted the need for the governments to address the teacher shortage by investing more in teachers and valuing the profession. He insisted that "teachers are the foundation of quality education."
Introducing the EI 'Go Public! Fund Education' campaign, EI General Secretary David Edwards said: "This campaign grows out of the work we have been doing. It arises out of our earlier campaigns and provides continuity to our work.''
The EIAP Regional Committee went on adopting a resolution on the 'Go Public! Fund Education' campaign, expressing unity and determination to ensure that every learner, no matter where he or she lives, is taught by a qualified teacher, every day, for every lesson.
The resolution further commits to organise and mobilise at the local, national, regional and global level to hold governments, intergovernmental organisations and IFIs to account for their policy failures and demands that the necessary policy frameworks be set up to attract and retain the teachers we need.
Angelo Gavrielatos, representing EI's Go Public! Fund Education campaign, underlined teacher shortages across the region and urged member organisations to take up the cause with their respective governments. He was confident that "the UN high-level panel on the teaching profession's views and recommendations on teacher shortage provides us with an opportunity to push for more investment in education and in teachers."
Reactivating the sub-regional women's networks
Committee members also decided that the women's networks in the Asia-Pacific region will be supported "as to be more inclusive, accessible, and diverse," and "a sister-with-sister model for union leadership development will be started, including emerging and experienced leaders.".
Meeting a day prior to the committee meeting, the Women's Network Steering Committee agreed to hold frequent meetings and develop a four-year strategy to build women leaders' capacity, so that the network becomes effective and contributes to the development of female leadership.
It further planned to hold sub-regional networks' initial meetings to establish their purpose, ground rules, and roles. These sub-regional networks' key activities would be to map current processes and ideas, as well as to come up with ideas on leadership development and sister-to-sister union leadership development.
"The Women's Network Steering Committee agreed to meet before each Regional Committee meeting. We want more women active in decision making of the unions. Multiple languages is a challenge, but it will not be a barrier in the sub regional structures," Corrina Haythrope, Vice-Chairperson of the EIAP Regional Committee, explained.
Taking urgent action on climate change education
The EIAP Regional Committee acknowledged the threat of climate change in the region and highlighted the need for climate change education to equip future generations with the means to face the challenges of climate change.
EIAP Regional Committee Chairperson Takimoto Tsukasa expressed that "climate change is linked to our concerns in terms of climate justice. Education for sustainable development is vital for future generations to be prepared for climate catastrophes and able to undertake sustainable practices."
EI President, Susan Hopgood went on to mention the climate challenges in the Pacific, warning: "Island nations in the Pacific are disappearing. Kiribati is buying land in Fiji. All of us are going to be affected. We want governments to agree that climate change education should be the norm. We need to make sure that governments act."
Earlier this year, EI member organisations in the Pacific had come together in Fiji for the EI/COPE Climate Conference – the first ever of its kind in the region – and examined why teachers and teachers' unions should be concerned about climate change. The conference concluded that students need to be active on climate change issues and there is a need to include climate change education in the curriculum. Climate change also affects work, working conditions and future of work. Just transition is therefore a fundamental issue for unions.
Raising concerns for peace, human and trade union rights and justice
Committee members also discussed the Israel-Palestine conflict and drafted a statement urging all "to cease hostilities and ensure that people in Gaza are able to receive humanitarian support."
"Peace is very important. As unions we must work to build peaceful societies for our children to have a better future. Our responsibilities regarding peace are immense. A peace conference has been initiated between Chinese, Korean and Japanese teachers, so that all of us could learn how to keep peace alive," the committee chairperson Takamoto reminded.
He added that "colleagues from the Korean Teachers' Union, the National Teachers' Union of Taiwan and the Japan Teachers' Union came together to protest the Japanese government dumping radioactive water waste in the Pacific Ocean. This is grave violation of the rights of the people using these waters and bears an immense environmental impact. We are resolved to end such practices."
"In Bahrain, Cambodia, Iran, Kurdistan, Myanmar, Philippines, and in too many other countries, teachers are victims of human rights violations. Democracy is attacked. We also see an increasing number of natural disasters. Teachers need support," EI General Secretary David Edwards also said.
Visiting the new EIAP office
EIAP Regional Committee members also visited the new regional office which was previously in Malaysia, commended the Kuala Lumpur's office staff for the work done on behalf and for EI member organisations in the Asia-Pacific region, and wished the current Bangkok's staff continued success.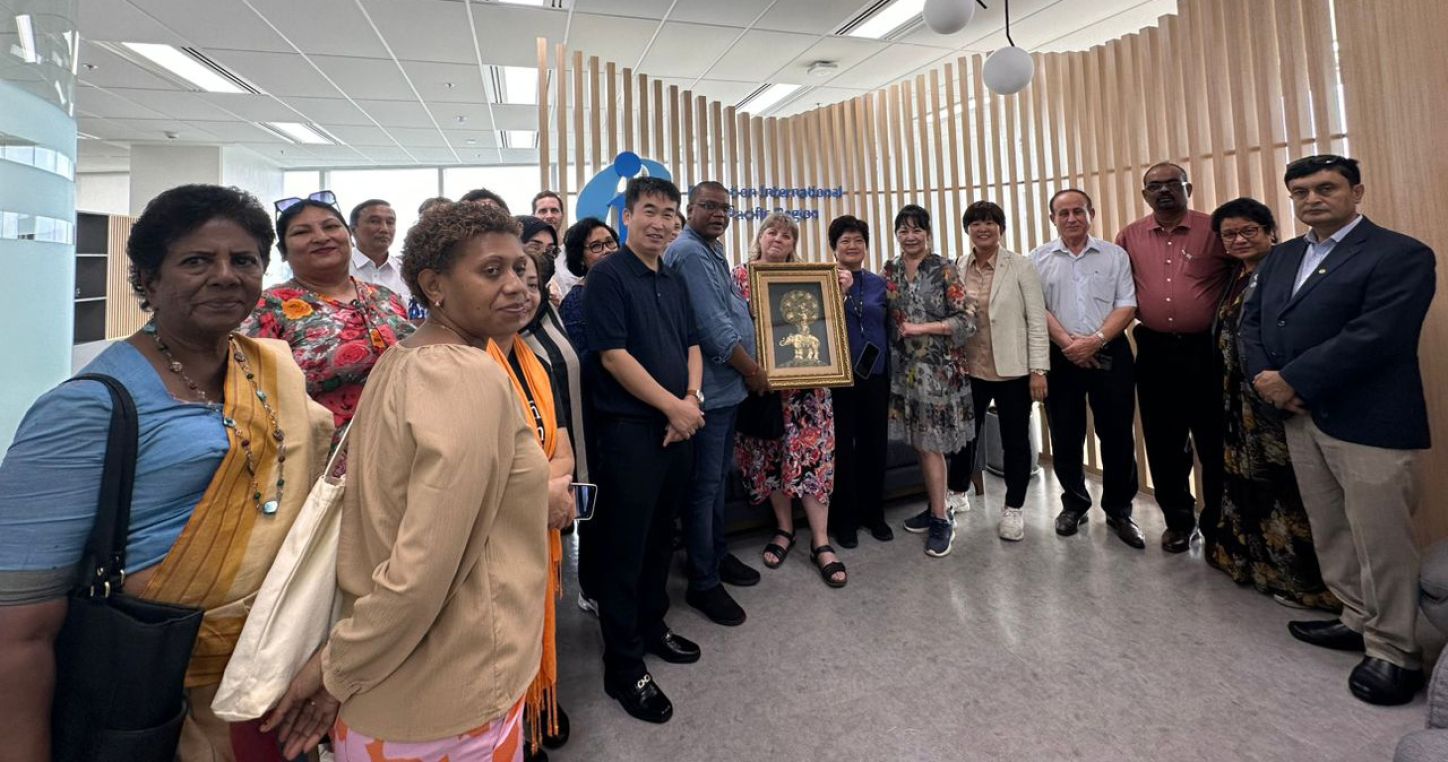 They also thanked EI affiliates in Malaysia – the Malaysian Association for Education (MAE), the National Union of the Teaching Profession (NUTP) and the Sarawak Teachers' Union (STU) – for their support and cooperation to the EIAP regional office in Kuala Lumpur, Malaysia, since its inception in 1997.
EIAP Regional Director Anand Singh stressed: "It is with a heavy heart that we leave Malaysia. A long history of cooperation, valued staff, and genuine support from the NUTP, MAE and STU helped the EIAP regional office very much. However, we had to move out due to many other difficulties. The EIAP regional office is now relocated in Bangkok, and we look forward to continuing working for all EI affiliates in the region from this office, helping them build their capacity and strength."